Breakfast Favorites with Flax Eggs (Egg Replacement)
---
Weekend mornings are about family time and sometimes brunch. Often when you have an allergy to eggs you miss out on family favorites like pancakes and latkes due to eggs in the recipe. And grabbing a quick muffin with your tea or coffee is a baked goods nightmare.
Here is a egg replacement that works really well with most recipes. It can't be used for things like quiche or meringue (where eggs are the primary ingredient), and pumpkin pie (it doesn't set) but used in muffins and other baked goods it makes a fabulous Vegan alternative.
Flax Eggs (otherwise known as an egg replacer)
This makes the equivalent of 1 egg:
Measure 1 tablespoon of flax seed to replace one egg and grind it in a blender or coffee grinder.
Add ground flax seed to a small bowl with 3 tablespoons of water and whisk.
Allow the mixture to thicken by sitting for two to three minutes before you use it in your recipe.
Brunch wouldn't be the same without a good pancake and some fresh fruit. Here are a few recipes to get you on your way to a great meal. Make them into shapes and get the whole family involved in the kitchen.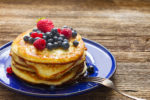 1 flax egg
1 c. brown rice flour
1 tsp baking powder
1/3 c. almond milk
¾ c fresh blueberries
1 tsp coconut oil
In a large bowl, add flax egg. Add flour, baking powder, almond milk, and blueberries and mix until well blended into a batter. In a frying pan on medium heat, coat pan with coconut oil. Pour batter in rounds, about 1/3 cup of mixture for each small pancake. As soon as they start to bubble, reduce heat, and flip to cook the other side until golden brown. Makes 2 – 4 servings.
1/3 cup Quinoa flakes or flour,
2 flax eggs
Optional: butter, cinnamon, honey
Mix 1/3 cup of quinoa flakes or flour with 2 flax eggs in a bowl, add 1 tsp of coconut oil. Add more quinoa flakes or flour if runny or until desired consistency is achieved. Stir until everything is completely blended then add to a pan set at medium heat. Sprinkle cinnamon, and/or honey if desired.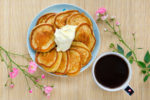 (note: make topping night before you plan on making pancakes).
¼ c. sunflower seeds
2 c. raw buckwheat
¼ c. raw sesame seeds
¼ c. raw flaxseeds
¼ c. raw pumpkin seeds
Blend above ingredients in a vitamixer or coffee grinder, but not long enough that the powder becomes moist!
Then add:
1 ½ tsp. baking soda
water or almond milk to desired consistency
1 tsp. real salt
1 tsp. vanilla
Mix with potato masher or a whisk. Cook in non-stick skillet with coconut oil (instead of oil or butter). Note: The trick to these pancakes is to only grind the seeds in the coffee grinder just long enough to become a fine powder – if you grind it too long, the powder will to turn wet, like a seed butter, & make the pancakes gummy & not cook properly, so don't over-grind!
TOPPING:
1 c. thai coconut meat w/ some of its water.
juice of 1 lime or lemon
1/8 tsp raw green stevia or coconut sugar
*blend & let sit in fridge overnight to thicken. Make pancakes next day & serve.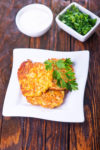 2 cups coarsely grated zucchini
½ cup buckwheat flour, quinoa flour or rice flour
1 tsp baking powder
½ tsp salt
A small onion, finely chopped
1 flax egg
Pepper & Spices to taste
Mix together the baking powder and salt with the flour. Sprinkle the flour mixture over the onions and zucchini and stir well. Add the flax egg and stir the mixture again. Fry small cakes in butter or coconut oil.
(Double batch = 15 latkes avg. 8 cm in diameter )
Great food, family and fun are what weekends are about!