Try to think of a good reason not to…​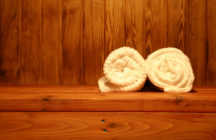 Far infrared sauna therapy is much gentler than traditional sauna therapy. Far infrared saunas operate at a lower temperature, and are able to penetrate the skin more deeply, reaching deeper tissues, organs, and inducing two to three times as much sweat as a traditional sauna. The lower temperature allows you to sit and enjoy the benefits of the sauna for a longer time.
Our far infrared sauna is very safe, easy to use, and, as part of naturopathy, is a great way to improve your health. There are many natural health benefits to using far infrared sauna therapy (FIRT).
Far infrared sauna therapy:
alleviates pain
alleviates sleep and energy problems
aids detoxification
helps reduce stress levels
improves cardiovascular function
increases immune function
increases your metabolic rate enough to produce a sweat, which will help you detoxify and lose weight
speeds tissue healing
Far infrared sauna therapy may be helpful in treating:
symptoms of chronic pain (e.g. arthritis, fibromyalgia)
some skin conditions
immune system disorders
assisting in weight loss
It is important that you drink water before and during your far infrared sauna treatment, as being properly hydrated increases your ability to sweat and detoxify. Our sauna room is equipped with a shower, plenty of towels, adjustable lighting and relaxing music.
Read more about Far Infrared Sauna in our Frequently Asked Questions section.
Experience the healing, invigorating powers of our far infrared sauna.