Zucchini Latkes
Zucchini Latkes
2 cups coarsely grated zucchini
½ cup buckwheat flour, quinoa flour or rice flour
1 tsp baking powder
½ tsp salt
A small onion, finely chopped
1 flax egg; ( or a 1 egg )
Pepper & Spices to taste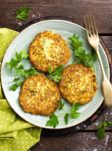 Mix together the baking powder and salt with the flour. Sprinkle the flour mixture over the onions and zucchini and stir well. Add the flax egg and stir the mixture again. Fry small cakes in butter or coconut oil.
(Double batch = 15 latkes avg. 8 cm in diameter )
Add some protein and these make a great side dish for supper too.