Seed Pancakes with Coconut Whipped Topping
Seed Pancakes with Coconut Whipped Topping:
(Note: make topping night before you plan on making pancakes).
¼ c. sunflower seeds
2 c. raw buckwheat
¼ c. raw sesame seeds
¼ c. raw flaxseeds
¼ c. raw pumpkin seeds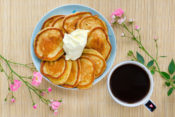 Blend above ingredients in a vitamixer or coffee grinder, but not long enough that the powder becomes moist!
Then add:
1 ½ tsp. baking soda
water or almond milk to desired consistency
1 tsp. real salt
1 tsp. vanilla
Mix with potato masher or a whisk. Cook in non-stick skillet with coconut oil (instead of oil or butter). Note: The trick to these pancakes is to only grind the seeds in the coffee grinder just long enough to become a fine powder – if you grind it too long, the powder will to turn wet, like a seed butter, & make the pancakes gummy & not cook properly, so don't over-grind!
TOPPING:
1 c. thai coconut meat w/ some of its water.
juice of 1 lime or lemon
1/8 tsp raw green stevia or coconut sugar
*blend & let sit in fridge overnight to thicken. Make pancakes next day & serve.