Green Beans with Toasted Pine Nuts
Green Beans with Toasted Pine Nuts
Serves: 2-4
1 lb (16 ounces) green beans
1 Tbsp olive oil 1 ounce pine nuts
3 cloves of garlic, minced
Juice of 1 lemon
Salt and pepper to taste
Optional: grated cheese
Preheat oven to 375 degrees F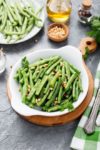 Cut the ends of the beans off and slice them into 1 - 1½ inch pieces. Steam them until they are still slightly crunchy, about 3 minutes.
While the green beans are steaming, sauté garlic in a non-stick or slightly greased skillet on low heat until soft and slightly brown, about 3 minutes. Set aside. In the same skillet turn the heat up to medium and toast pine nuts until slightly brown, about 2 minutes. Set aside.
When green beans are done toss with lemon juice, salt and pepper. Then top with garlic, pine nuts and optional cheese.
Serve immediately.