Blueberry Pudding (Dairy Free)
Blueberry Pudding (Diary Free)
This pudding is a family favourite in spite of it being tofu. It can be mixed up in the blender in minutes. Serve it with coconut or cashew cream and fresh berries for an elegant dessert.
Ingredients
1 (12oz/300g) pack organic firm silken tofu (see notes for soy substitute)
3 cups fresh blueberries
1/4 cup (60ml) pure maple syrup, plus more to taste
1 teaspoon pure vanilla extract
2 teaspoons fresh lemon juice, plus more to taste
Pinch of sea salt.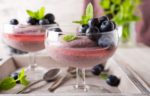 Instructions
Throw everything into your blender, and blast on high for 30 to 60 seconds until smooth and creamy. Add lemon juice and sweetener to taste.
Transfer the mixture to four cocktail glasses or small dessert bowls, and chill in the fridge for 2 to 3 hours to thicken.
Serve topped with soy or cashew cream, and sliced almonds.
Notes:
If you have soy allergies, are avoiding soy, or are on a paleo diet substitute 1 to 2 cups of fresh young coconut meat, or 1 cup raw unsalted cashews, and add raw coconut water as needed.