Asian Cabbage Slaw
Asian Cabbage Slaw
(From The Whole Life Nutrition Cookbook, 2nd Edition, Alissa Segersten and Tom Malterre, Whole Life Press, 2009)
If you want to prepare this ahead of serving, simply make the salad and store it in the refrigerator. Keep the dressing in a glass jar and pour it over the salad when ready to serve.
Salad
3 cups thinly sliced red cabbage
3 cups thinly sliced green cabbage
2 carrots, grated
3 to 4 green onions, thinly sliced
½ cup chopped fresh cilantro
½ cup sesame seeds, toasted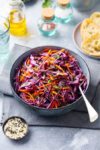 Dressing
¼ cup toasted sesame oil
3 tbsp brown rice vinegar or coconut vinegar
1 tbsp wheat free tamari or coconut aminos
1 tblsp pure maple syrup
1 garlic clove
1 one inch piece of fresh ginger
To prepare salad, place all ingredients into a large bowl and toss to combine.
To make the dressing, place all the ingredients into a blender and blend until combined. Alternatively, you can add all the ingredients into a wide mouth pint jar and use an immersion blender to combine. pour the dressing over the salad and toss to coat. Serve immediately.
Yield: 6 servings