​Turkey Pasta Salad with Cilantro Pesto
For 2 servings:

1 cup brown rice pasta
200-300 grams of turkey thigh (or turkey breast if you prefer)
1 medium onion
1 medium tomato
1 lemon
1/2 cup fresh cilantro (use basil if you dislike cilantro)
1 handful of almonds
Olive oil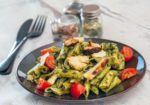 Cook the pasta, then set aside when ready. In a pan, sauté the turkey and the chopped up onions for 5-10 minutes, then set aside.
Meanwhile, use the food processor to mix up half a cup of cilantro, a handful of almonds, a squeeze of lemon and 2 tablespoons of olive oil. This is the cilantro pesto. Chop up the tomato, then add everything to a bowl, mix together and serve for the hot version, chill half an hour for a cold salad.
You can use some of the chopped tomato on top as garnish for either version and enjoy!