Crunchy Zucchini Bites
Ingredients:
2 cups shredded fresh zucchini * - remove extra moisture by squeezing in a clean tea towel)
2 eggs lightly beaten
1 small yellow onion, shredded
½ cup shredded cheddar cheese
¼- ½ cup shredded parmesan cheese (not the powder kind)
½ cup Italian bread crumbs (you can use gluten free bread crumbs instead to make it Gluten Free)
1 tsp dried parsley
½ - 1 tsp garlic powder
Salt and pepper to taste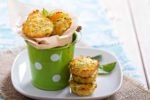 Instructions:
Preheat Oven – 400 degrees
Mini muffin tin – sprayed with oil
Mix all ingredients in a large bowl until combined. Spoon into the muffin tins, don't over fill ( about 1 TBSP).
Bake at 400 degrees for 15-17 minutes, until the tops are a deep golden brown.
Serve with Tzatziki, Ranch or Marinara sauce.
These are delicious warm, or served cold. A great appetizer or serve with a salad for a nice light dinner!
These do freeze well too for about 2-3 weeks to use warmed up at a later date.
*Can use 2 cups of frozen zucchini just be sure to drain off all the water!
From eatdrinkeat.com, also seen on simplyrecipies.com