Oatmeal to Go
Ingredients:
2 eggs (Flax eggs- egg replacement)
3-4 Bananas ( the riper the sweeter)
¾ Cup unsweetened applesauce
1 ½ Cup milk (goat, rice or almond)
2 tsp. vanilla extract
½ tsp. salt
1 tbs. ground cinnamon
3 Cup old fashioned rolled oats
2 tsp. baking powder
Optional
suggested toppings: blueberries, pumpkin seeds, flax seeds, chocolate chips, toasted nuts, dried fruit, etc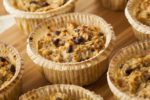 Instructions:
Preheat oven to 350 degrees. Line a muffin tin with paper/foil muffin liners. In a large bowl, whisk eggs then add applesauce, mashed bananas, milk, vanilla, salt and cinnamon.
Whisk well until combined. Stir in oats and baking soda. Let sit for 20-30 minutes to allow oats to absorb most of the liquid.
Fill muffin cups with ¼ Cup oat mixture each. Add favorite toppings, pushing down into the oat mixture with your finger.
Bake 30 minutes or until firm and browned on top.
Let cool for 5 minutes before eating.
Can be stored in an airtight container for up to a week or frozen for later use.
Adapted from:
https://tiphero.com/baked-oatmeal-to-go?fbclid=IwAR0stpbGADFf4yA-JYattUBIs6o5Kz8XFOZWmVTc9RSop_fCVfORz8-fEVo