BBQ Salmon with Blueberry Salsa
BBQ Salmon (serves 4)
1 salmon fillet, about 1.5lbs (or 750g)
Cut salmon into serving portions. Prepare the barbeque and oil the grill. Then barbeque the cut salmon skin side down over medium high heat for about 10 minutes per inch of thickness. Spoon salsa over salmon or serve on the side.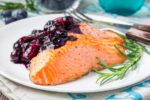 Blueberry Salsa
Combine just before serving:
½ large pink grapefruit (sectioned with membrane removed), diced
2 Tbsp (25mL) red onion, finely chopped
1 chopped jalapeno pepper
1tsp honey
1Tbsp lime juice
1 cup blueberries, fresh or thawed
2 Tbsp chopped fresh cilantro
Salt and freshly ground pepper to taste.
Preparation time: 10 minutes Cooking time: 10 minutes