Wrap it Up!
Wrap it Up!
Gluten Free or Ezekiel 4:9 Wraps (Caroline DeMarco's Recipe)
Food For Life makes brilliant, delicious and highly nutritious wraps that have become a staple in our house for quick meals. Although not 'raw' they are made from living sprouted grains and legumes and cooked without oils at low heat. They are high in protein and the sprouting process makes them digestible and less likely to cause problems for people with wheat and gluten sensitivities. You can find them in the freezer section of your health food store. The following are some of the raw stuffing ideas we have enjoyed with these wraps. Fill center of wrap, roll and enjoy!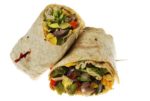 If you can't find Ezekiel Wraps, use a gluten-free wrap. Other alternatives are plant based wraps:
Nori sheets
Lettuce leaves
Napa cabbage leaves
Collard greens
Lacinato kale leaves
Grape leaves
Long thin strips of raw zucchini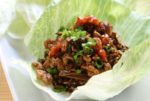 Here are some ideas to get you started. Be creative!
Classic wrap: lettuce (Romaine, leaf or baby greens), avocado, cucumber spears, tomatoes, sunflower and/or red clover (or alfalfa) sprouts, sauerkraut.
Asian wrap: spread almond butter on the wrap and then add baby bok choy, grated carrots, cucumber spears, any kind of sprout, slivered green onions, chopped cilantro. Sprinkle with a little cold pressed sesame oil, and nama shoyu or tamari or salt.

Mexican wrap: spread guacamole on the wrap and then add sliced lettuce, chopped tomatoes or salsa, chopped green onion, sprouts, chopped cilantro.
Middle Eastern wrap: spread wrap with hummus and add tomatoes, cucumbers, sprouts, chopped olives, sprouts, shredded lettuce.