Shiitake Soup
Shiitake mushrooms are immune stimulating. This is a nice soup to make on a rainy fall day or if you feel like you are coming down with something. Shiitake mushrooms are anti-viral , anti-tumor and protective of the liver. They are sweet and neutral and are traditionally used to detoxify Qi and blood.
55g/2oz dried shiitake mushrooms
225g/8oz fresh shiitake mushrooms
1 liter chicken stock
salt and freshly ground pepper
sprigs of fresh coriander, to garnish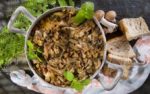 Rinse the dried shiitake and soak them in hot water for 1 hour. Drain and be sure to keep both the shiitake and the strained liquid.
Remove the stems of both the dried and gresh shiitake and slice the caps. Put the dried shiitake and stock in a saucepan and bring to a boil, cover and simmer for 30 minutes. Remove the dried shiitake and save for use in another dish, as leaving them in this soup gives too strong a flavour.
Add the fresh mushrooms and the reserved liquid from soaking the dried mushrooms to the soup, bring to boil and simmer gently for 10 minutes.
Season with salt and pepper and serve garnished with coriander sprigs.