Salt and Vinegar Chick Peas
Salt and Vinegar Chick Peas
2 cups canned chickpeas
3-4 cups white vinegar
1 tsp Coarse sea salt
2 tsp extra virgin olive oil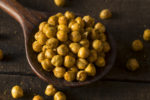 Line a baking sheet with tin foil or parchment paper.
Take chickpeas and vinegar and place in a medium sized pot. Add a dash of sea salt. Bring to a boil and then remove from heat. Let sit in pot for 30 minutes. Preheat oven to 425F.
Carefully drain chickpeas. Place on lined baking sheet and drizzle with olive oil and sea salt. Massage with fingers until fully coated. Roast for 45 minutes, flipping once half way through. Keep a careful eye on them after 35 minutes of cooking to ensure they don't burn. The goal here is crispy and golden chickpeas, not black. Enjoy as a high protein snack or as a side to a lunch or dinner.
*Note: I assume you could also use dry chickpeas and cook them in vinegar from scratch. Also note: When I brought the cooked chickpeas to a boil, some of the peas split open and some of the skins came off. Not to worry if this happens-it will turn out regardless!