Lunch Pail Muffins
Ingredients
1 ½ cups unbleached all purpose flour (or Power Flour*)
1 cup old fashioned rolled oats
1 tsp baking powder
½ tsp baking soda
½ tsp cinnamon
Pinch nutmeg
½ tsp sea salt
1 cup unsweetened applesauce
2 egg whites + 1 yolk
½ cup goat milk soured with 1 tsp lemon juice
½ cup pureed sweet carrots

½ cup agave nectar
¼ cup safflower oil
1 Tbsp best quality vanilla
½ cup raisins, optional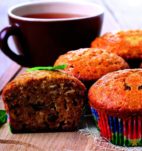 Yield: 12 muffins *prep time: 10 min *cook time: 20 min

Preparation
1/ Preheat oven to 400*F. Prepare muffin tin by lining with Silpat reusable liners or parchment liners.
2/ In one large bowl combine Power Flour with oats, baking powder, baking soda, sea salt and spices. Use a wire whisk to mix ingredients well. In another bowl combine wet ingredients: applesauce, egg yolks and whites, soured milk, carrot puree, agave nectar, vanilla and oil. Mix well.
3/ Add wet to dry ingredients. Mix until just blended. Your batter will look lumpy if you have done it correctly.
4/ Fill muffin cups with batter. Bake for 20 minutes or until golden brown. Remove from oven and place on wire rack to cool. Serve with apple butter or unsweetened applesauce.
*Power Flour:
¼ cup brown rice flour
¼ cup amaranth flour
¼ cup of each of the following if not gluten intolerant: spelt, kamut, barley, and unbleached wheat flour.