Healthy Apple Crisp
Ingredients
4 cups apples, thinly sliced (For extra fiber, leave the peels on)
2 Tbsp maple syrup
½ tsp cinnamon
½ tsp vanilla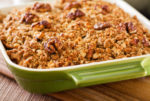 Topping
½ cup old fashioned rolled oats
2 Tbsp gluten free flour
2 Tbsp coconut oil, melted
1 Tbsp maple syrup
½ tsp cinnamon
Serves 4
Preparation
Preheat oven to 375F.
Combine apples, maple syrup, vanilla and cinnamon in a pie plate or square baking dish. Mix well and set aside.
(For a low carb alternative, mix 2 cups apples with 2 cups peeled & sliced zucchini and use a low carb sweetener like xylitol, or a no carb sweetener like a few drops of stevia. It is the cinnamon and vanilla that give the crisp it's distinctive flavour.)
In a separate bowl, combine oats, flour, coconut oil, maple syrup, and cinnamon for the topping.
Top apple mixture with oat mixture.
Bake for 25 - 30 minutes, or until apples are soft.