​Gluten-free Pasta with Pesto, Asparagus, and Tomatoes
Gluten-free Pasta with Pesto, Asparagus, and Tomatoes
Cooking & Prep Time – 30 minutes
Recipe is for one, double or quadruple the recipe as needed.
1 cup Brown rice pasta
3 tbsp Pesto*
½ bunch Asparagus
Handful of cherry tomatoes or 1 - 2 sundried tomatoes (be careful of sulphites)
1 chicken breast (optional)
2 tbsp Pine nuts, toasted (or you can use pumpkin seeds or another nut)
2 tbsp Olive oil
1 tsp Oregano
1 tsp Basil
1 tsp Parsley
Salt & Pepper to taste
* Please note: most commercial pesto will contain some form of cheese, but it's easy to make your own pesto. So make lots! Pesto lasts for weeks in the fridge and even longer in the freezer. Always be sure to cover with oil. ( Alternative – Epicure Pesto )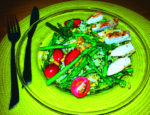 Pesto
1 bunch of basil leaves
1 clove of garlic
2 tbsp of toasted pine nuts (or pumpkin seeds)
1 – 2 tbsp olive oil
Put into a food processor or blender (a magic bullet works well too) and blend until smooth.
Directions:
1. Place chicken breast on a sheet pan. Sprinkle on spices & salt and pepper to taste. Put in a 350-degree oven for approx. 20 minutes. (Times will vary depending on size ) Cut into small pieces.
2. Cook pasta as per directions
3. Cut asparagus into 1-inch lengths. Place into an oiled pan and sprinkle with salt. Cook on med-high until bright green.
4. Cut cherry tomatoes in half and add to asparagus just before the asparagus is done (or right at the end if this step is forgotten). If using sundried tomatoes, dice and put aside
5. Once the pasta is cooked, drain and add the chicken, asparagus, tomatoes, pine nuts, and pesto.
6. Enjoy!