Cucumber Hummus Cups
This recipe is from the Quality Greens recipe blog. The recipe calls for "your favorite hummus", so what could be better than our own Homemade Hummus recipe ? Cucumbers and hummus make a really special appetizer for any holiday feast.
This is our favorite Hummus Recipe
Enjoy!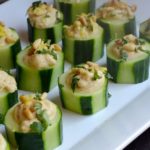 Ingredients
2 English Cucumbers, cut into 1 1/2" thick rounds
Kosher salt
1 1/2 cups of your favorite hummus**
1/2 cup pine nuts, toasted
Finely minced parsley, for garnish
Directions:
Use a melon baller or round measuring spoon, scoop out the center of each cucumber to form a hollow. Season with kosher salt, and then fill each cucumber with a teaspoon or two of hummus.
Garnish with pine nuts and parsley, and an additional sprinkle of salt.
Arrange on a platter and serve immediately.
For advance preparation, peel, cut and scoop the cucumber cups, but do not season. Store up 12 hours in an air-tight plastic bag or container then fill just before serving.
Homemade Hummus**
1 19oz can chickpeas, drained and rinsed
¼ cup fresh lemon juice
1/3 cup tahini
2 Tbsp fresh cilantro (optional if not available)
2 Tbsp olive oil
1 clove garlic
¼ tsp ground cumin
¼ tsp each sea salt and black pepper
Directions:
Place chickpeas in food processor. Puree coarsely. Add lemon juice, tahini, cilantro, olive oil, garlic, cumin, salt and pepper. Process. Add lemon juice to thin if necessary.