Clean Eating Stew (Beef or Bison)
Ingredients
1 ½ pounds top round or stew meat (beef or bison)
4 cups clean vegetable stock or broth
6 carrots – cut in chunks
1 large red onion
4 stalks celery
2 large portabello mushrooms – I add some extra crimini mushrooms as well. I leave them whole.
¼ cup whole wheat flour ( I use rice flour)
½ cup balsamic vinegar
2 T. honey
½ t. black pepper
1 T. garlic powder ( I use fresh garlic)
2 small bay leaves
1 t paprika
2 T. olive oil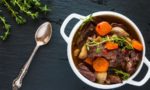 Preparation
Prepare veggies- cut into bite size chunks. Put all the veggies in a large pot with 1 T. olive oil and all the spices. Cook until onions begin to get soft. Stir constantly. Once finished, pour the veggies into a crock pot – keep the pot handy for the bison/beef.
Cut bison/beef into bite size chunks. Put the meat into the same pot you cooked the veggies in (don't wash the pot) – this will help to add some flavor to the meat.
To the meat ADD 1 T. olive oil, flour, vinegar and honey. Cook, stirring constantly until most of the meat is browned. Careful not to overcook – just brown the meat. Place meat mixture in crock pot with veggies. Add vegetable broth.
Cook on low for 7-8 hours.
All crock pots cook differently – newer models take less time – older ones take more time. Mine takes approx 4 hours.
I have also cooked this recipe in the pot on the stove or in my clay baker.
So good the next day!
Enjoy!