Easy Tomato Basil Cream Pasta
I love a fresh tomato sauce and the cashews in this recipe add a non-dairy creaminess that is delightful! You can't beat fresh basil either.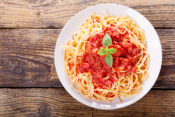 Yield: 2-3 servings
2 servings uncooked brown rice spaghetti
1 large ripe tomato or two smaller tomatoes
1/2 cup raw cashews
1/4 cup water
1 tbsp tomato paste
1 tbsp olive oil
2-4 garlic cloves, minced (I used 3)
1 tsp salt, or to taste
3-4 tbsp water or broth (optional)
1-2 tsp freshly ground black pepper
1 cup packed fresh basil, finely chopped

1. Bring a large pot of water to boil. Chop tomato and add it to the blender (including skin and seeds). Now add the cashews, water, and tomato paste. Blend until smooth.
2. Add your pasta to boiling water and cook pasta according to package directions.
3. Meanwhile, add olive oil to a large skillet and heat to low. Add the minced garlic and sauté for a few minutes being careful not to burn it.
4. Pour the sauce from the blender into the skillet, stir, and bring to a simmer. Add the salt and let it cook for 4-5 minutes, watching closely. You may add water or broth to thin out the sauce to your desired consistency, but this is not necessary.
5. Remove sauce from heat and stir in the chopped basil and pepper. Once the pasta is done cooking, rinse and drain it. Add the drained pasta back in the pot and now gradually add pasta sauce until your desired amount is achieved. Stir and serve immediately.
Makes 2 servings, likely with sauce leftover.