Polycystic Ovarian Syndrome (PCOS)
Polycystic Ovarian Syndrome (PCOS) affects many women and teenage girls. It can begin shortly after puberty and impact a women (if untreated) throughout her menstruating life. PCOS is often frustrating and in many cases quite painful. It can affect your ability to become pregnant and may increase your risk for miscarriage. The cause is hormonal imbalances that lead to anovulation, insulin resistance and hyperandrogenism.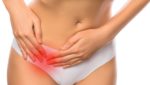 Symptoms may include excess hair growth, menstrual irregularities, dysfunctional uterine bleeding, obesity (not always), infertility, miscarriage, hair loss, irritability and depression. There is also an increase in rates of type II diabetes, dyslipidemia, hypertension, cardiovascular disease, gestational diabetes, gestational hypertension and endometrial cancer with women with PCOS.

Our naturopathic doctors are trained to recognize the signs and symptoms of PCOS. They may suggest lab testing to have hormone levels checked. PCOS is treated naturally using diet and lifestyle modification, nutritional supplements, herbal medicine and through the use of nutritional supplements.