Maple Chicken Kaclucks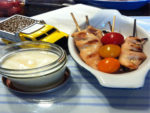 We use our BBQ all year in my household.... you name the weather condition my husband is the one in charge of our outdoor grill. I have stepped out on literally unmanned territory and found the liberating experience of being a BBQ'N Momma.
My chicken kaclucks inspiration came from my sweet maple syrup that my family brought back from Ontario. Maple syrup has to be the real maple syrup- not imitation "maple flavored" syrup. The true Canadian maple syrup is a bit more expensive, but well worth it!
Ingredients
2 skinless boneless chicken breasts cut into 1'' pieces
3 tbsp Maple Syrup
¼ cup Goat Milk Yogurt/ Plain Yogurt/ Greek Plain Yogurt
Wooden skewars (20 minute + in water)
Preparation
Cut chicken in 1'' lengthwise strips, and soak in
1 tbsp of maple syrup and place in the fridge for 30 minutes before grilling.*
Heat BBQ to 400°F
Brush grilling surface with canola oil - with heat resistant brush.
Let grill heat for 2 minutes until the desired heat has been reached
While BBQ heating skewer the 1'' pre cut pieces zigzagging the long strip down the wooden skewar
Lay chicken kaclucks down crosswise on grill to get those nice searing marks
2 minutes per side
In separate bowl place 2 tbsp of maple syrup waiting to be brushed on the newly cooked chicken
Remove from grill and set aside to cool/rest
Combine ¼ cup of goat yogurt and 1 tbsp of maple syrup or adjust to your liking. We still want a thick dip.
Garnish with cut apple and Voila!
* When preparing chicken, or cooking chicken or poultry keep cutting surfaces, knifes, plates restricted only for raw chicken. Once used make use to wash with soap and hot water to prevent the cross contamination to other foods.
BE WELL & BON APETIT!