Healthy Summer Skin for Kids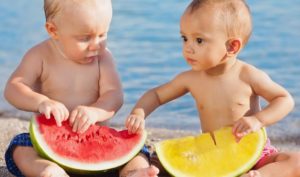 The skin is a complex organ; it is our protection against the world and our first line of defense. As parents, we worry in the summer about keeping our children's beautiful, soft skin healthy. We want to avoid the harmful chemicals in sunscreen and the damaging effects of the sun's ultraviolet rays while still allowing them to get the adequate amount of vitamin D. It is a tricky balance, but here are some tips that can help.
Basic Sun Safety Tips
Cover up – Shirts, hats, shorts and pants protect your skin from the sun's rays and allow you to avoid the harmful chemicals in sunscreen. They are also great for minimizing how much sunscreen your need to apply.
Find shade or bring it with you – Set up your picnic or beach blanket under a tree, umbrella or shade tent. This is especially important in the case of infants as they lack the tanning pigments to protect their skin. Most manufacturers recommend avoiding sunscreen in this age group though the American Academy of Pediatrics says that small amounts of sunscreen can be used on infants as a last resort when shade can't be found. See below for more information on how to choose the safest one.
Plan around the sun – Go outdoors early in the morning or late in the afternoon when the sun is lower in the sky. UV radiation peaks midday when the sun is directly overhead.
Use sunglasses – Better quality sunglasses do more than make your child look cool. Ensure they block both UVA and UVB rays to protect your child's eyes.
Choose an Effective and Healthy Sunscreen
We know that one sunburn in childhood doubles your child's chances of developing skin cancer so there is no question that sunscreen is important. However there are increasing reports about the harmful chemicals in sunscreens and personal care products so be sure to read labels and be familiar with the harmful components. In sunscreen, avoid oxobenzone, and retinyl palmitate (Vitamin A). Oxobenzone is a synthetic estrogen and hormone disruptor and data is showing that tumors and lesions develop sooner on skin coated with vitamin A-laced creams. Vitamin A, listed as "retinyl palmitate" on ingredient labels, is in one-fourth of sunscreens on the market. Avoid them. Instead, look for: zinc, titanium dioxide, avobenzone or Mexoryl SX. In addition, avoid sprays and powders that can get into the lungs and may be harmful if inhaled. Also avoid SPF above 50 because we tend to stay in the sun longer and reapply less often. High SPF's offer minimal added protection over SPF30. Instead look for sunscreens that come in cream form, are water resistant for beach, pool and exercise, and are SPF 30+. Be sure to apply sunscreen as directed. Make sure to apply it before going out into the sun, use enough and reapply as often as directed.
What about Vitamin D?
Vitamin D is produced in the skin when we are exposed to the sun and in our northern climate, Vitamin D deficiency is a concern. As little as 10 minutes of sun exposure per day is thought to prevent deficiencies, but in light of the growing list of conditions Vitamin D can treat or prevent, I suggest supplementing it in children and most adults. Vitamin D is found in many dietary sources such as fish, eggs, fortified milk and cod liver oil. The recommended daily allowance for children over the age of 1 is 600IU per day and for infants aged 0-12 months, the upper level intake is 1000IU daily.
Treating that sunburn
If your child does get a sunburn you should soak them in a cool bath as soon as possible after sun exposure. You can add strong herbal infusions (a strong tea) to the bath water made from soothing cooling herbs such as strawberry leaves, comfrey root or leaves and marshmallow root. Nutritional supplements can help with healing the affected skin. Giving your child age appropriate doses of beta-carotene, vitamin C, zinc, omega 3 oils and bioflavonoids for two weeks following a sunburn may help heal the damaged skin. Aloe vera gel has been used topically for centuries to soothe and cool burns. Apply gently and as often as needed. Soak a clean white cloth in cool comfrey root tea and apply the compress to the affected area. Comfrey root contains allantoin, a substance known to promote skin healing.
Healthy skin from the inside out
Healthy skin requires a healthy body. Keeping your child's diet filled with fresh fruits and vegetables that give a full spectrum of nutrition and phytochemicals is a good start. Step 2 is adequate water. Keep them hydrated! Each skin cell requires essential fats to make a healthy cell wall so for step 3, think Omega-3 fats. These can be found in flax seed oil, cod liver oil, fish oil supplements and in fish.
Don't shun the sun!
We want to be smart around the sun, but not stay indoors for fear of sun exposure and chemicals. We want our kids to be active. Growing trends towards childhood obesity and diabetes mean it is more important than ever that our children lead healthy, active lifestyles and enjoy the great outdoors. We live in the Okanagan and sun is a part of that lifestyle, whether it is enjoying the lakes all summer or the bright winter sun on the ski hill during the winter and spring. The right combination of timing your activities, covering up, finding shade, and safe sunscreen use can be the right formula for keeping your family outside and enjoying the sun while also keeping their skin healthy for a lifetime