Curried Chickpeas
(From A Call to Women: The Healthy Breast Program and Workbook, Sat Dharam Kaur, ND, Quarry Press, 2001)
This delicious dish contains many ingredients with cancer-curative and cancer-preventative qualities.
Chickpeas: a source of fibre, and a source of phytoestrogens which competitively inhibit estradiol (a more harmful form of estrogen) from binding in breast tissue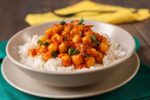 Garlic: inhibits growth of breast cancer cells, high in trace minerals and protective antioxidants
Onion: aid the liver in its detoxification pathways
Ginger: a digestive tonic, immune stimulant, aids in detoxification
Turmeric: has antioxidant, anti-tumour and anti-inflammatory activity, improves detoxification by the liver
Ingredients
5 cups cooked chickpeas (two 19oz cans or 2½ cups dry)
4 Tbsp extra virgin olive oil
1½ tsp cumin seeds
1 large onion, peeled and chopped
2 tsp garlic, minced or crushed
3-4 tsp grated fresh ginger
½ tsp turmeric powder
3 tsp coriander powder
1 tsp paprika powder
¼ tsp cayenne powder
1 large tomato, chopped
¼ tsp garam masala (optional)
2 cups water
Fresh coriander (cilantro) leaf, chopped or sprouts (broccoli, red clover, sunflower)
Preparation
Prepare chickpeas. Heat water with the oil in a cooking pot and add cumin seeds. When the seeds turn brown, add the chopped onion. Allow them to cook for one minute on medium heat and then add the garlic. Cook until onions are light brown, and then add the ginger. Cook for 1-2 minutes. Add paprika, turmeric, cayenne and coriander powder. Stir and cook for another minute. Then add chopped tomatoes or tomato paste to the mixture. Stir and sauté for a few minutes more. Add the chickpeas to the above mixture along with 2 cups of water (use the water from cooking the chickpeas). Let the mixture simmer for a few minutes. Add garam masala. Stir with rice. Sprinkle with chopped coriander leaf or broccoli, sunflower, red clover or alfalfa sprouts.
Yields 4-6 servings.