C-Section Recovery
April is Cesarean awareness month. According to Perinatal Services BC, the C-section rate rose to close to 37% in 2019/2020.
Whether planned or emergency, there are many ways that an RMT can help in recovery.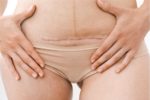 Massage – directly to the scar or to other areas if the body that may be feeling discomfort
Homecare – educational or appropriate stretching and strengthening exercises. I often give Pilates based exercises to help you feel strong again.
Time and space to relax and calm your nervous system to help your healing process.
There is no time limit on when seeing an RMT can be effective for c-section recovery, I have seen clients many years after delivery or a few short weeks.

Please feel free to reach out if you or anyone you know could benefit from a helping hand in their recovery.