Harvest Salsa
Ingredients:
½ lb Jalapeños (5 with seeds) *Here you can use a variety of peppers depending how hot you like your salsa to be. For example; hot bananas, cherry habanera or any combination of peppers you can find. The idea here is to start with ½ lb of hot peppers adding a few to taste as you go along. Keep tasting while it is simmering because it takes a while for the heat of the peppers to show up in the salsa. You can always add a pepper to the pot.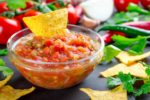 3 cups Cubeneala, Anahey, or sweet banana peppers
8 cups of Tomatoes – usually Romas but whatever you would like
2 cups chopped onions
¾ cup cider vinegar
* Start with ½ cup and add more to taste as it can have a strong vinegar taste. The longer you leave it post canning the more the vinegar taste will mellow out.
1 cup Red pepper
1 cup Yellow pepper
1 can of tomatoes
**You can add a few more fresh tomatoes at this point if you want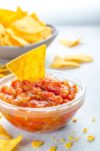 2 cans tomato paste *** can add 3 if you fee the sauce is too loose
4 cloves of garlic **** more if you are a garlic lover like me
2 TBsp of granulated sugar
1 TBsp salt
2 tsp of paprika
1 ½ tsp cayenne pepper
1 tsp of dried oregano
1 Bunch of fresh cilantro (add near canning time so they stay greener)
1 cup Corn * optional (I usually use because it adds some sweetness)
Black beans * optional
Instructions:
Cut the tomatoes coarsely because they will shrink a bit with cooking and if they are too finely cut the salsa won't be very chunky.
Bring the mix to a quick boil, but not too long as it can break down the tomatoes too much and lead to liquid salsa.
Simmer for 1 hour (or longer if to much liquid). Process in canner for 20 minutes.
****** This recipe was given to us from a former colleague. Before I got the recipe, I anticipated her giving me a jar or two every Christmas because it it so good. It's the only salsa my husband eats!