Roasted Red Pepper Soup
Ingredients
1 tablespoon virgin coconut oil
1 large onion, diced
2 tablespoons chopped garlic
½ to 1 teaspoon crushed red chili flakes
1 teaspoon sea salt or Herbamare
Two 14 ounce cans of coconut milk
4 cups Vegetable Stock or Chicken Stock
4 to 5 red bell peppers, roasted
4 cups chopped tomatoes
¼ cup minced fresh parsley
¼ cup minced fresh basil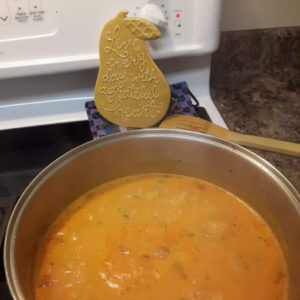 Tip:
To roast the red bell peppers, place them in a baking dish under the broiler until the skin is charred, turning frequently, 8 to 10 minutes. Remove the peppers from the dish and place them in a paper bag or covered glass bowl. Let steam for about 10 minutes. Remove the peppers and peel off the charred skin. Cut the peppers removing and discarding the stem and seeds.
Instructions
Heat the coconut oil in a 6 quart pot over a medium heat. Add onion, garlic, red chili flakes and sea salt and sauté until tender.
Add the coconut milk, stock, bell peppers and tomatoes to the pot and simmer for 20 minutes, covered stirring occasionally.
Puree the soup in the blender in batches then return to the pot or use an immersion blender to puree the soup int the pot. Cook on low heat for about 5 minutes, then add parsley and basil and cook for 5 minutes more, stirring often. Taste and adjust salt and spices if necessary.
Taken from the "Whole Life Nutrition Cookbook" by Alissa Segersten & Tom Malterre page 209