Thanksgiving Favorites - Part 2 Veggies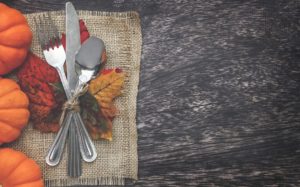 Now let's move onto the veggies that will be paired with the focus of the feast. What is better than beans with Ham or Turkey? My favorite is green beans but any beans will do. Paired with a vegetarian Tofurky they make a balanced meal.
Green beans are my absolute favorite vegetable. They are so versatile. This recipe is an adaptation of my Sister-In-Law's recipe. I like to finish them off with a sprinkle of parmesan or other hard cheese, but with or without the cheese they are yummy!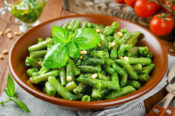 Green Beans with Toasted Pine Nuts
Serves: 2-4
1 lb (16 ounces) green beans
1 Tbsp olive oil
1 ounce pine nuts
3 cloves of garlic, minced
Juice of 1 lemon
salt and pepper to taste
optional: grated cheese
Preheat oven to 375 degrees F
Cut the ends of the beans off and slice them into 1 - 1½ inch pieces. Steam them until they are still slightly crunchy, about 3 minutes.
While the green beans are steaming, sauté garlic in a non-stick or slightly greased skillet on low heat until soft and slightly brown, about 3 minutes. Set aside. In the same skillet turn the heat up to medium and toast pine nuts until slightly brown, about 2 minutes. Set aside.
When green beans are done toss with lemon juice, salt and pepper. Then top with garlic, pine nuts and optional cheese.
Serve immediately.
---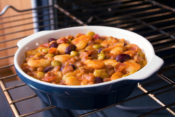 Navy Beans in a Homemade Barbecue Sauce
(From The Whole Life Nutrition Cookbook, 2nd Edition, Alissa Segersten and Tom Malterre, Whole Life Press, 2009)
1 ½ cups dry navy beans, soaked overnight
6 cups water
4 cloves garlic, peeled
Barbecue Sauce:

1 Tbsp extra virgin olive oil
1 small onion, chopped fine
4 cloves garlic, crushed
¼ cup tomato paste
¼ cup maple syrup
1 Tbsp Blackstrap molasses
1 tsp sea salt or Herbamare
¼ to ½ teaspoon chipotle chilli powder, or to taste
½ cup water or bean cooking liquid
1.Soak beans overnight or for about 8 hours. Drain off soaking water and rinse well. Place beans into a 3-quart pot and add the water and garlic cloves, bring
to a boil then reduce heat to a simmer. Cook beans for about 1 hour or until beans are soft and cooked through. Remove garlic cloves.
2. Heat the olive oil over medium heat in a 6-quart pot. Add the chopped onion and crushed garlic, sauté until soft, about 5 to 7 minutes.
3. In a small bowl, mix together the tomato paste, maple syrup, molasses, sea salt, chipotle chilli powder, and water.
4. Add the drained beans, tomato mixture, and chipotle pepper to onions: mix thoroughly. Simmer covered for 20 to 25 minutes, stirring occasionally, and adding more water or bean cooking liquid if necessary. Taste and add more sea salt and chipotle pepper as desired.
---
Yams are another dish that is well received at many a holiday feast, the transport well too as their density holds the heat.
Some say that reheated Yams taste better because the flavours set in the re-heating process.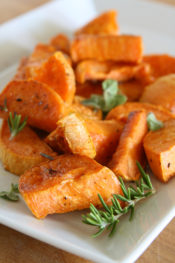 Roasted Yams with Rosemary
(from The Whole Life Nutrition Cookbook, 2nd Edition, Alissa Segersten and Tom Malterre, Whole Life Press, 2009)
Yams are an excellent source of beta-carotene, vitamin C, and Vitamin B6.
Serves 4
2 large yams, peeled and cubed
½ to 1 tablespoon finely chopped fresh rosemary
2 tablespoons extra virgin olive oil
½ teaspoon sea salt
Preheat oven to 425F.

Place yam cubes, rosemary, olive oil, and sea salt into a large baking dish. Mix well to coat the yams with the olive oil.

Place into a preheated oven. Bake uncovered for 35 to 45 minutes or until yams are very tender.