Thanksgiving Favorites - Part 1 Salads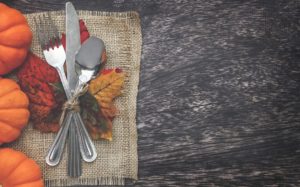 With Thanksgiving almost here, I've found a few ideas of healthy alternatives to add to your Holiday celebrations. Many of us will be cooking and others will be traveling to visit friends and family with a dish in hand to share.

Let's start with a salad that is an easy dish to make ahead to bring to the family table or to contribute to a pot-luck meal.
My family loves to pair ham with a slaw instead of a traditional salad. You can make the veggies and dressing ahead of time, then combine them just before the feast for a fresh alternative to salad.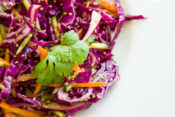 Asian Cabbage Slaw
(From The Whole Life Nutrition Cookbook, 2nd Edition, Alissa Segersten and Tom Malterre, Whole Life Press, 2009)
If you want to prepare this ahead of serving, simply make the salad and store it in the refrigerator. Keep the dressing in a glass jar and pour it over the salad when ready to serve.
Salad
3 cups thinly sliced red cabbage
3 cups thinly sliced green cabbage
2 carrots, grated
3 to 4 green onions, thinly sliced
½ cup chopped fresh cilantro
½ cup sesame seeds, toasted
Dressing
¼ cup toasted sesame oil
3 tbsp brown rice vinegar or coconut vinegar
1 tbsp wheat free tamari or coconut aminos
1 tblsp pure maple syrup
1 garlic clove
1 one inch piece of fresh ginger
To prepare salad, place all ingredients into a large bowl and toss to combine.
To make the dressing, place all the ingredients into a blender and blend until combined. Alternatively, you can add all the ingredients into a wide mouth pint jar and use an immersion blender to combine. pour the dressing over the salad and toss to coat. Serve immediately.
Yield: 6 servings
Kale is such a versatile vegetable, it depends on what you combine it with to determine the overall flavor of the dish. Add sweet carrots and raisins for a sweeter dish, or use spinach, romaine lettuce with seeds and cheese for a more savory experience.
Jasmine's Kale Salad
1 Bunch of Kale (washed, center ribs removed, cut into fine ribbons and then crosscut)
2 Carrots, grated
1 Bunch of fresh Parsley, chopped
Grated fresh Ginger (to taste )
1 Lemon, juiced
Braggs liquid aminos or salt to taste
(Optional - Raisins, hemp hearts, sesame seeds, slivered almonds, flaked yeast or grated cheese)
Mix all ingredients. Top with flaked yeast or toasted nuts. This is a perfect salad to experiment with. It's the background of kale that you can add almost anything to and make a great salad. Get creative and see what you can come up with!