Applesauce Brownies
Apples are my favorite fruit. I would put them in anything and eat them all day long. I have adapted my Grandmother's recipe for brownies to be gluten free and low sugar. Thanks to Pinterest I made the alterations, but not before a few missteps. Now, friends, co-workers and hubby say that this recipe is as good as the full sugar, fat and wheat version. I happen to think they are better! Give them a try, see what you think.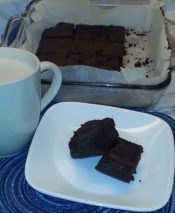 Ingredients: Brownies
• 1/2 cup unsweetened applesauce at room temperature
• 2 TB coconut oil melted
• 1/2 cup honey (xylitol for sugar free version)
• 3/4 cup unsweetened cocoa powder
• 1/4 tsp salt
• 1/2 tsp vanilla extract
• 2 large eggs
• 1/2 cup gluten free flour (Bob's Red Mill All Purpose Baking Flour)
• 1/2 cup chocolate chips (stevia sweetened)
Directions
1. Preheat oven to 350. Prepare an 8 inch square pan by lining it with parchment or foil. I also like to brush a little melted coconut oil onto the parchment paper.
2. Stir the coconut oil into the applesauce. If the applesauce is cold and the oil firms up, warm the mixture in the microwave for a few seconds until the oil is melted and the mixture is smooth.
3. In a large bowl, combine the sugar and the applesauce/oil mixture. Stir together. Add the cocoa powder, salt, and vanilla, and stir until combined. Stir in the eggs.
4. Sprinkle the flour over the batter and stir until it is just combined. Once the flour is just combined stir in about two thirds of the chocolate chips. Pour into prepared square pan. Then sprinkle the remainder of the chocolate chips onto the batter.
5. Lay the square pan into a larger pan and fill the larger pan with about an inch of water (this helps keep the moisture in the brownies while baking)
6. Bake for about 25 minutes. The centre will rise and the edges will be firm, but a toothpick inserted in the middle should be a bit wet when removed. If the batter on your toothpick becomes firm when cool, the brownies are done.
7. Let cool completely.** For best flavor, store these brownies overnight before eating.
** Letting these brownies cool completely is the most important step of the process. They come out of the oven looking as if they are under baked but cooling them lets the oils and applesauce "firm up" giving them the luscious texture of full fat brownies.
Frosting
With the chocolate chips on the top of the batter, I don't often frost these brownies, but several versions of this recipe were on Pinterest.
If I do frost them I frost the brownies while they are still a bit warm. That way the frosting and the brownies firm up at the same time.
Ingredients:

• 1/2 cup coconut oil, melted
• 3 Tbsp sticky sweetener of choice I use honey *
( Sugar Free version, use 2 tbsp xylitol )
• 1/2 cup cocoa powder I used dark cocoa powder
• 1 cup unsweetened applesauce See Notes *
• 1 Tbsp coconut flour or corn starch Optional- See Notes **
Directions:

1. In a large mixing bowl, combine your coconut oil, sticky sweetener of choice and cocoa powder. Mix until a glossy liquid chocolate texture remains.
( If doing the sugar free version, add sweetener into the melted coconut oil and blend until the granules are melted. Then add the cocoa powder)
2. Add your unsweetened applesauce. Start with 1 cup and depending on what texture you are after, then increase quantity in increments of a tablespoon at a time.*
3. Refrigerate for at least 20 minutes, to thicken slightly. If you need to use it immediately, add a tablespoon or two or coconut flour/cornstarch. (I prefer coconut flour.)
Notes:

* For a thinner, drippy frosting, add more applesauce.
** Alternatively, refrigerate longer to firm up.
This Frosting tastes best made and used on the same day. If you refrigerate it, you'll need to let it sit at room temperature to soften up. Alternatively, you can add some milk or honey to loosen up.