Staying Well During Pregnancy with Prenatal Tea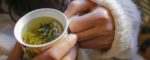 One of my favourite prescriptions to my pregnant clients is a Prenatal Tea. This is very gentle, yet effective daily treatment to prepare the body for delivery, prevent swelling in the extremities, and support a healthy immune system during pregnancy. Drink one cup per day, starting at the beginning of the 2nd trimester, and increasing to 2-3 cups per day during the 3rd trimester.
Mix:
2 parts Red Raspberry leaf (Rubus idaeus)
1 part Nettle leaf (Urtica dioica)
1 part Alfalfa (Medicago sativa)
Red Raspberry is rich in minerals, like iron, and vitamins C and E. It contains fragarine and flavonoids which strengthen and tone the uterus. It encourages milk flow, and helps to restore the reproductive system after childbirth. It's been found that women who drink red raspberry tea regularly through their pregnancy are less likely to require caesarean sections, forceps or vacuum during delivery 1.
Nettle is high in vitamins (A, C, K) and minerals (calcium and iron), helping to prevent anemia during pregnancy. It strengthens kidneys, adrenal glands, and blood vessels, relieving fluid retention and leg cramps, and increasing energy. It's also found to decrease the likelihood of bleeding and hemorrhage during childbirth.
Alfalfa encourages milk production, and is a source of trace minerals and chlorophyll, which increase energy and strengthen blood vessels.
After mixing in the proportions above, brew 2 teaspoons of tea per cup of hot water, let steep 5 minutes, and sip while hot.
Read more about Raspberry leaf during pregnancy