Lunch Box Ideas
Ensuring your child has a nutritious lunch is important to good health and optimal performance in the classroom. This can be a challenge with time-restraints in the morning, and so many easy pre-packaged, kid-attractive processed foods on the market (think "Lunchables", pudding cups, and lunch-sized chocolate bars and potato chips). Spending a bit of time once or twice per week and freezing or refrigerating the weeks lunch supplies can be an efficient way of ensuring your child has good nutrition during the week.
Sometimes it is hard to get kids to eat their breakfast in the morning. Or hard to get them out of bed and ready in time to eat before they have to leave for school. Check out these recipe's for easy to make breakfast bars which you can send in their bag or hand as they run out the door!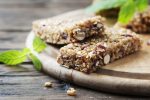 Check out our website for another great breakfast or snack recipe, the Lunch Pail Muffins.

This time of year with all the fruit ripening at once it is hard to use it all. Why not make home made fruit leather? This way you know what is in it and there are no preservatives in it that your children are eating regularly. Looks like a great recipe with lots of fruit options. The only change I made was to use parchment paper instead of the plastic wrap and then cut it and store it in airtight container instead of rolling it up.
Another great idea for all the fruit available in the fall is canning. Canning is easy once you get the basic rules down and you can control the sugar and preservatives. You will have healthy low sugar fruit to send to school with your kids all winter long. The main rule is that you wash and sterilize all your jars and lids before you start, bring the water bath to a boil to make sure the water is sterile, and then once the jars are filled and ready, process for the appropriate time in the canner (usually around 10-15 minutes).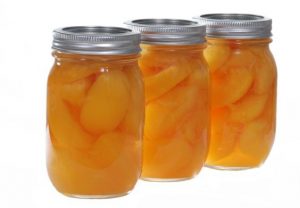 Make sure all the lids snap closed and seal properly before putting them away and you want to use them preferably in the first year but they will often last longer. With fruits that brown it is best to use some fruit fresh or ascorbic acid (vitamin C) in the water, but I have a client that just puts a tablespoon of orange juice with her fruit and that provides the sweetness and the Vitamin C to prevent browning. You can make the water bath with as little sugar as you can for taste purposes, as it is not required for preserving the fruit.
Does your school or daycare have a no-peanut policy? Is your child allergic to tree nuts (e.g. almonds, pecans, walnuts)? Here are some good alternatives: hummus spread, bean spreads, soy nut butter, sunflower butter, sesame butter, cream cheese, and apple butter.
Raw veggies are an easy lunch option with many kids. On the weekend, prepare your child's favourites – peppers, carrots, celery, cucumbers, cherry tomatoes – and keep them in glass containers in the fridge. Put them in individual containers when you're packing lunches.
Having some protein in your child's lunch box can help to fill them up and help keep them feeling satiated for longer. Check out two recipes on our site: Black Bean and Quinoa Quesadillas and Chicken Kaclucks that Lana and Melanie submitted for this Newsletter. They are great protein rich meals that can go in the lunchbox as well.
Another healthy and environmental consideration for school lunches is a "green" lunch box and non-toxic food containers. Many plastic lunch kits contain toxic chemicals like bisphenol A (BPA) and aluminum. It is best to go for stainless steel or fabric. Wrapping food in waxed or butcher paper is a healthier alternative to plastic or "Saran" wrap. There are even 100% cloth sandwich bags available now, that can be washed and reused many times: LunchSkins.com
Making healthy changes can be a process, but it is well worth the effort. Your child will be eating many lunches in their 13-year schooling career, and every bit you can do to make it nutritious will ensure they have optimal health and learning as they grow up.