Healthy Skin Care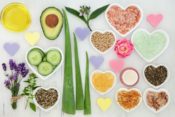 Our skin is our largest organ and allows the body to eliminate (think of sweating out toxins in a sauna) or absorb (think of a transdermal patch used to help someone quit smoking). Every day we apply various products to our skin, and there is now evidence that the chemicals we can absorb from them are harmful to our health. Perfumes, present in many body products, can contain hundreds of synthetic chemicals and contribute to allergies and neurological symptoms. Parabens are a commonly used preservative that are linked to hormonal disruption.
Using homemade body products is a great way to reduce our exposure to these harmful chemicals. Following is a recipe from a great resource, "There's Lead in Your Lipstick: Toxins in Our Everyday Body Care and how to Avoid Them" by Gillian Deacon (Penguin Canada, 2011).
Scented Garden Body Scrub
2 cups sweet almond oil
2 cups salt (a combination of Epsom salts, fine sea salt, and coarse sea salt – see which texture you like best)
20 drops essential oils (lavender, geranium, orange, lemon, rose, chamomile) or oils of your choice
Stir all ingredients together with a spoon until a thick, oily mass results. Spoon it into a wide-mouth glass jar. At the end of your shower, scoop out a handful and scrub it all over your body for a satisfying exfoliation. Rinse quickly, then step out of the shower and gently pat skin dry. The scented oil will act as a perfume and moisturizer. For use in the bath, wet skin and scrub as above.